The Roath Community Garden Project is a madeinroath residency, run in partnership with g39, Plasnewydd and Mackintosh Community Gardens and artist Emily Price.
madeinroath secured funding through the Tesco Bags of Help scheme to look at developing the cultural and community offer of public, communal garden spaces within Roath, and identified two gardens to work with – Mackintosh Community Garden and Plasnewydd Community Garden (Shelley Gardens) – as well as space and time to develop and research within g39 gallery's Unit(e) programme.
Following an open call in April 2016, madeinroath and g39 (in conversation with the community gardens) commissioned Emily Price – an artist with a practice embedded in growing, eating, ecology, sustainability, public and social spaces and community engagement within contemporary art.
Emily planned to spend a period of time researching and working with community garden users to develop the project reflecting the community needs and interests, and following this would produce a series of skill share workshops which would feed into this research. The potential outcomes of the project were wide-ranging and were not predetermined – they could include performance, the development of physical structures, open discussions, joint meals, seed exchanges etc.
As part of the commission, Emily worked with madeinroath and g39 to plan a seminar looking at madeinroath, the RCGP and her wider practice and research within the context of practice across the UK. This will take place on the 1 November, please see below for more details.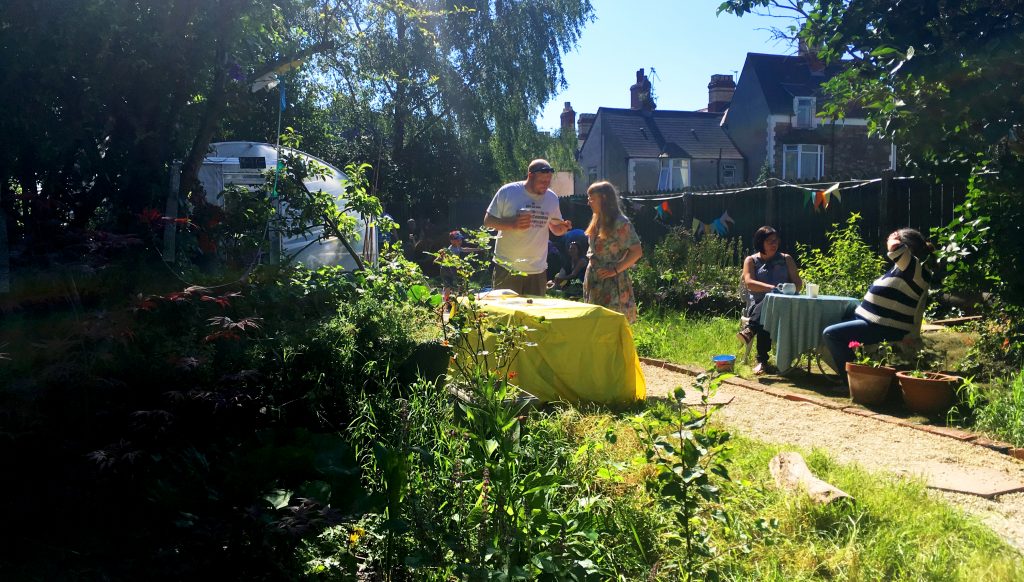 Multicycle (Every Little Helps) 2017
When:
Sat 21 Oct, 11am – 4pm
Where:
Longer Tables Street Party, Plasnewydd Rd next to Albany Primary School
Artist Emily Price was commissioned by madeinroath and g39 to work with Plasnewydd and Mackintosh Community Gardens, from April – October 2017.
Emily has initiated and facilitated a project: Multicycle (Every Little Helps) 2017, an adaptable and multifunctional vehicle that will serve both community gardens and the wider community in Roath. Multicycle will change form appropriately, as and when is needed; from a portable kitchen, a portable storage unit to a portable plant sale.
Join Emily and the gardens at the Longer Tables Street Party to find out more about Multicycle (Every Little Helps) 2017 and the principles of Arte Útil, which has informed the project.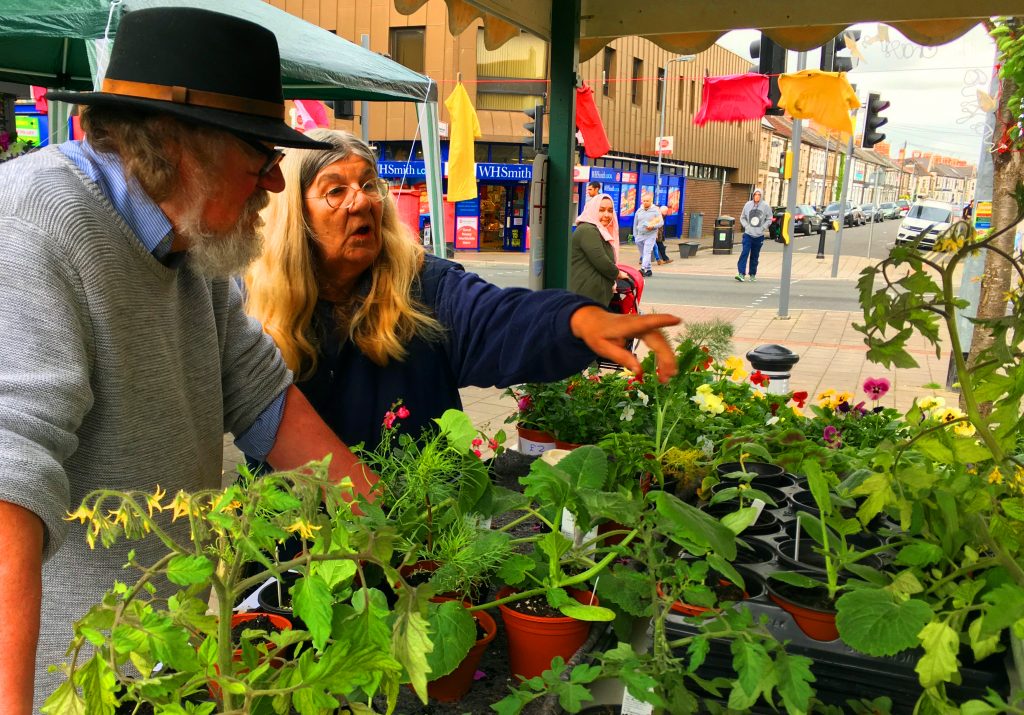 When:
Wed 1 Nov, 10am – 5pm
(times tbc – watch this space)
Where:
The Gate Arts and Community Centre,
Keppoch Street, CF24 3JW.
'Arte Útil' roughly translates into English as 'useful art' but it goes further, suggesting art as a tool or device. Arte Útil draws on artistic thinking to imagine, create and implement tactics that change how we act in society.'
On Wednesday 1 November 2017, Emily Price will bring together thinkers, practitioners, artists and facilitators to Roath to discuss Arte Util, projects that work within the framework of the movement and the importance of such projects to communities in our current political climate.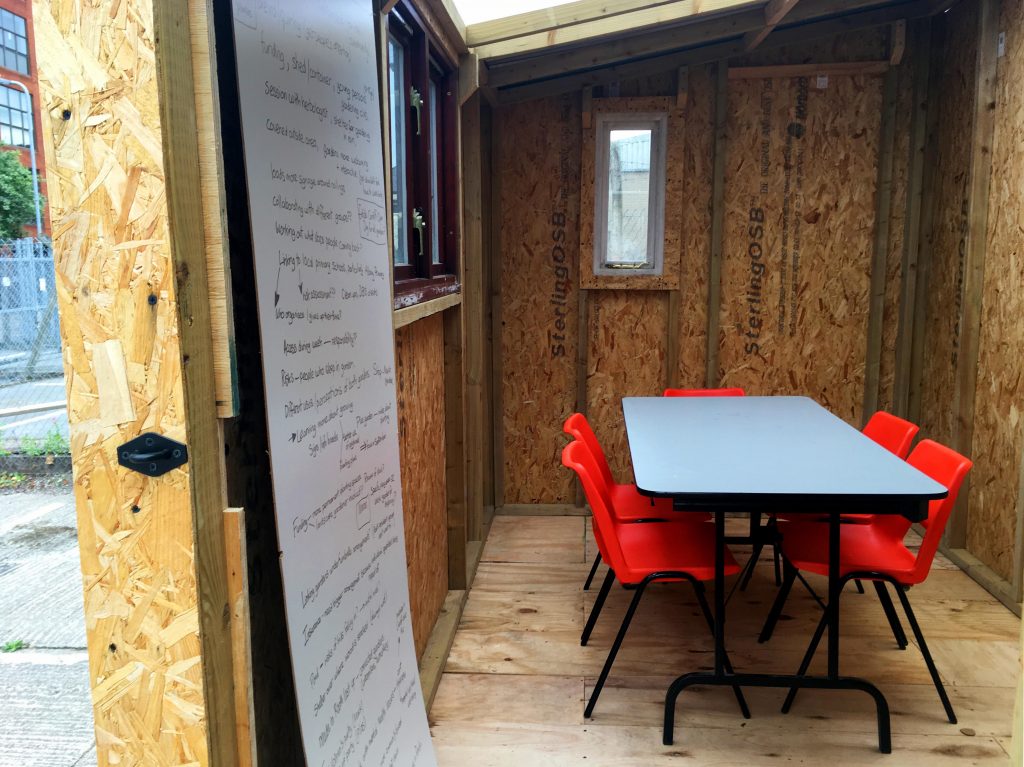 When:
Sun 15, Fri 20, Sat 21 and Sun 22 Oct, 11 – 5pm
By appointment at any other times during madeinroath.
Where:
g39, 39 Oxford Street, Cardiff, CF24 3DT
During madeinroath week, artist Emily Price is opening-up her studio, the garden shed outside g39, as a temporary Office of Useful Art.
The shed will act as a place where people can find out about Multicycle (Every Little Helps) 2017, a project developed by Emily and Plasnewydd and Mackintosh Community Gardens, during her sixmonth residency with madeinroath and g39.
As well as offering a physical information centre about the community gardens and the project that Price has developed with the garden communities, Office of Useful Art will showcase other projects from the Arte Útil Archive that involve the land, environment and urban activism.
'Whether through self-organised groups, individual initiatives or the rise of user generated content people are developing new methods and social formations to deal with issues that were once the domain of the state. Arte Útil case studies show how these initiatives are not isolated incidents, but part of a larger historical trajectory that is now shaping our contemporary world.'
Throughout madeinroath week, Emily and members of Mackintosh and Plasnewydd Community Gardens will be present in the Office of Useful Art, ready to answer questions about the project and for people to find out how to get involved with both community gardens that happen a stones throw from the garden shed at g39.
Please call / text 07572 010366 for more information.