hello! welcome to madeinroath
We're an arts organisation that is based in the heart of Roath, Cardiff.
madeinroath is for anyone and everyone who's interested in art, culture, community or just having fun, and we have people from all across the UK (and beyond) who travel to Roath to take part.
Our annual festival takes place 14 – 21 October, when we host a week-long extravaganza of events and activities across all creative disciplines, showing the very best of local talent alongside some excellent national and international artists.  We believe art and culture can enrich the lives of everyone, and so that's why a lot of what we do takes art out of the traditional museum or gallery spaces and into the community.
---
Be part of the 2018 festival, 14 – 21 October!
Exhibitions – to include your exhibition (including an open house or studio) in the festival programme please fill out the registration form HERE.
Everything Else – from poetry readings to inviting the public in for breakfast to screen printing workshops to a play about Cathays, whatever your creative output is fill in the following registration form to include it in the festival programme – HERE.
Artist Commissions – If you would like to apply for one of our commissions for the 2018 festival please see the call out on the Arts Council Wales website HERE.
madeinroath Open Exhibition – If you would like information on the Open Exhibition, this year held at g39, please email media@madeinroath.com.
---
madeinroath's space
1a Inverness Place is our new project space, and creative community resource, based in the heart of Roath. From there, we'll be running a year round programme of creative activities and events, additional to our festival programme. Generously funded by Arts Council Wales, it will change, develop and adapt throughout the year as a space where things happen, where creativity can be encountered or explored, where people gather, where the community meets. To get involved, pop in or drop us a line at info@madeinroath.com.
---
WHAT'S ON
Artist in Residence at 1a
Lucille Junkere
Lucille Junkere is an artist, educator and textiles researcher specialising in plant colours and embroidery. Her recent research focuses on the legacy of colonialism in African Caribbean textile history exploring the idea of reconnections. In April 2017  'a Winston Churchill Fellowship, to study àdìrẹ in southwestern Nigeria from provided an opportunity to hear the African voice. It was the voice of Nigerian artists, scholars, curators, the teachers and apprentices who keep the tradition alive, the patrons who make a conscious decision to wear àdìrẹ and the highly skilled Yorùbá àdìrẹ artisans who make the cloth.'  This residency reflects Lucille's personal interest in indigenous indigo dyeing traditions and her own creative practice in natural indigo dyeing. Lucille will be exhibiting her textile work, as well as working in the space at 1a using traditional indigo dying techniques on the following dates :
Opening days/times
Tuesday 31 July 10am – 6pm
Wednesday I August 10am – 6pm
Thursday 2 August 12:30pm – 5pm
Friday 3 August 10am – 6pm
Sunday 5 August 10am – 6pm
Tuesday 7 August 10am – 6pm
Wednesday 8 August 10am – 6pm
Friday 10 August 10am – 6pm
Saturday 11 August Indigo dye workshop booking essential
Sunday 12 August 10am – 5pm
Previous Residencies :
Tim Bromage
Peilot artist Tim Bromage will be artist in residence at madeinroath's new project space, an empty shop at 1a Inverness Place, Roath, CF24 3RU. Tim will be performing daily from 3 – 21 July, and the residency forms part of Tim's Creative Wales Award activity.
Over the three weeks he will be exploring the use of anecdote and story to interrogate local and autobiographical history. The space will be open to visitors for the duration of the residency. Members of the public are invited to submit and contribute to a growing collection of stories, and to explore the role that oral history plays in the community.
These 'entries' will be added to an existing collection of material titled 'The Museum of Divergent Reality'. The museum functions as both a philosophical ideal, and as an ever evolving performance score. A variety of existing museum entries will be on display throughout the residency, and demonstrations and guided tours are available on request.
There will be a number of programmed events during Tim's residency, and you can find him at 1a Inverness Place, CF24 4RU
PAST EVENTS:
Joseff Badman
'By name and by nature'
Sat 7th july 8pm
Joseff Badman is an award winning sleight of hand magician and performer. Joseff's one man show combining technical excellence with autobiographical stories, exploring his unconventional family tree and how heritage can influence the decisions and choices we all make in adulthood.
'My grandfather played cards for money, and never lost, and my aunt spent her time reading fortunes for a living. Growing up I found myself around past times that held a little risk, cards, dice, and other games of chance. As I have grown older; these things have held a continued fascination for me. I wonder now if it was inevitable.'
We are thrilled to have Joseff perform his one man show at 1A, please bring your own drinks and prepare to be entertained by one of the most talented magicians currently working in the UK.
For more information check out our Facebook page and Chapter Noise.
Thomas O'Sullivan residency
To launch our new community space at 1a Inverness Place, madeinroath have invited artist Thom O'Sullivan to be resident from April 9th – 22nd. While there, he'll be meeting and talking to you, the community, as well as hosting events and building tools to develop the space.
Wednesday, April 11th: Brunch, with informal talk from Spit & Sawdust and others,10.30am
Sunday, April 22nd: Celebration event, 6pm.
madeinroath PROCESSIONS
Banner making workshops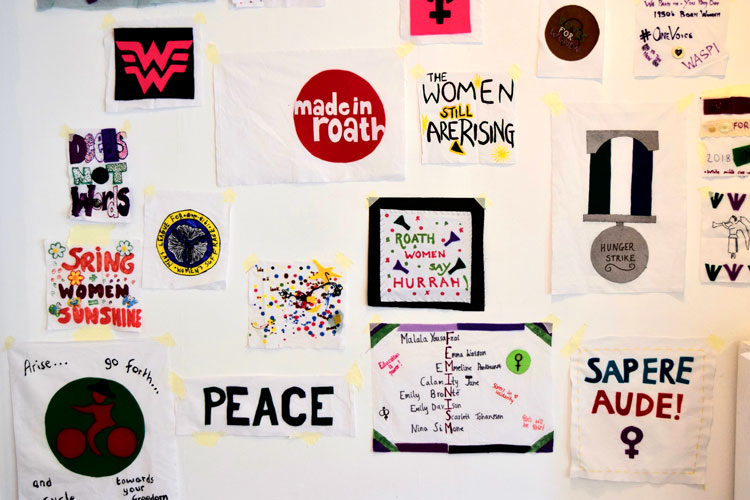 madeinroath are excited to be taking part in PROCESSIONS.
We will be designing one of the 100 banners celebrating 100 years as well as a community banner. Workshops will be held at 1a Inverness Place.
The project will take shape over 8 workshop sessions (2 hours each) over the coming months. This will include an introduction session followed by design and making sessions with guidance and support from lead artist Jessica Ackerman.
If you are interested in getting involved in creating the community banner please contact Pip at create@madeinroath.com.
PROCESSIONS
Play your part in PROCESSIONS – one of the largest participatory artworks ever created.
Produced by Artichoke and commissioned by 14 – 18 NOW, the UK's arts programme for the First World War centenary, PROCESSIONS marks 100 years since the first women in the UK won the vote. It was a big moment and we need your help to celebrate in a really big way.
On Sunday 10th June 2018, join thousands of women to form four epic PROCESSIONS in the four political capitals of the UK – Belfast, Cardiff, Edinburgh and London.
Women and girls, those who identify as women and non-binary individuals of all ages, persuasions, races, cultures, abilities, political affiliations and backgrounds are invited to create four living portraits of women today and walk with banners, pennants and flags they have made to express the lives, ideas and hopes of women in the 21st century.
Join us and register to attend at www.processions.co.uk.
#PROCESSIONS2018, @processions2018, @ArtichokeTrust, @1418NOW
Made in Spring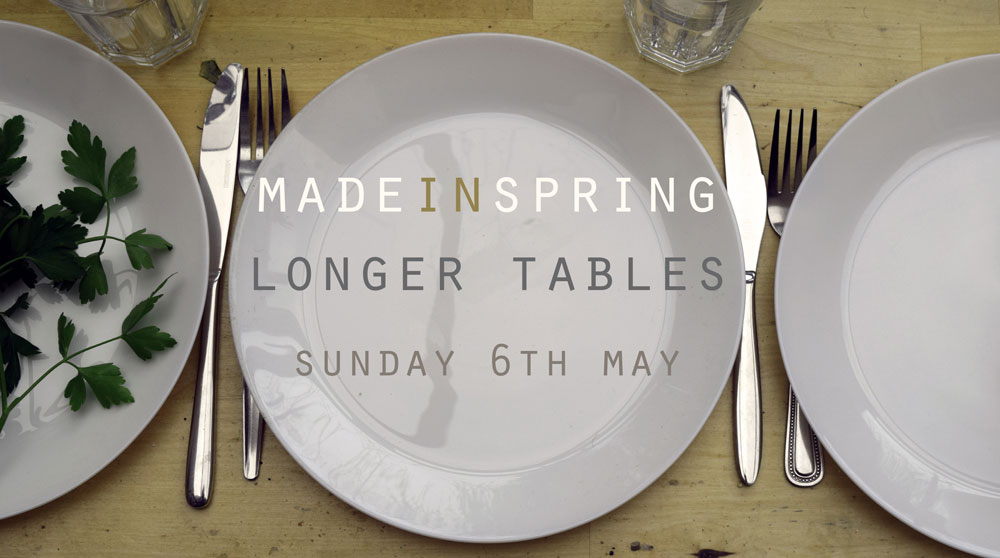 Sunday 6th May, 12noon – 4pm
Plasnewydd Road
(between Strathnairn St and Albany Road)
For this years Made in Spring street festival we are holding a special event, the Longer Tables Community Lunch. Plasnewydd Road ( between Strathnairn and Albany Road) will be closed to traffic, and a commissioned bespoke long table will transform the road into a place to share food, conversation, skills, creativity and ideas. Come along and take part in a very special street party for Roath – take your place at the table and enjoy all that that it has to offer.
Red Route
You are very warmly invited to join madeinroath's 5th Red Route, taking place on 5th – 6th May 2018!
Red Route is a very special 27 mile march, demonstrating the importance of art and culture to society, from Merthyr Tydfil's beautiful Redhouse to Made in Spring festival, Roath. Over two days we'll walk along the Taff Trail, sharing food, conversation, and especially art – with a number of commissioned artworks and performances along the way.
All refreshment is free during Red Route, and will culminate in a feast together at Made in Spring.
Follow artist Dai Howell & guests as they attend the madeinroath festival and community arts events.
Follow us throughout the year for information on madeinroath events, activities & happenings and Cardiff arts events & opportunities.
Follow us @madeinroath2017 for festival updates and shares from the arts community
By my side Come rain or shine is just starting with the flags made by the community. Heading to Inkspot #bymysidecomerainorshine pic.twitter.com/6xzUwYC1pG

— Made in Roath (@madeinroath2017) October 15, 2017
Follow @madeinroath for snapshots of Roath's arts community.