Sunday the 15th of October 2017 was a Sunday as normal as any other to countless many. In fact I am sure that Sunday the 15th of October 2017 will go by unnoticed and mostly unremarked upon by the majority of planet Earth's citizens.
The citizens of Roath and Cardiff on the other hand may remember it differently. Because Sunday the 15th of October saw the start of Made in Roath 2017. The week long community arts festival which has over 200 different events, exhibitions and happenings occurring all crammed into seven'ish days. Sunday saw the start of many of these things. The day was thankfully bright and clear, the perfect October Sunday with crunchy leaves under foot.
There is art all around Roath, the festival map is packed with stuff almost on every street. On the first day I found myself wandering into the Roath Park greenhouse to see Philippa Brown's "a curious nature" installation. Her installation, a colourful object interacting and floating on the warm water as its exotic surroundings carry on their days around it. The object was at home but still out of place, like an unknown intruder from a foreign world nestling in a far flung jungle.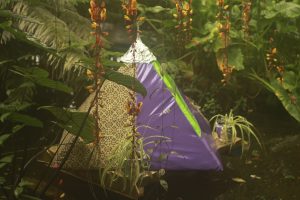 I proceed through the park, happening upon artist Cerys Thomas-Ford collecting stories and thoughts with her "Not from around here (journeys)" project. She was spending the first two days of the festival collecting tales about the area. Being a newcomer to Roath from the far flung land of "Swansea" (See Google earth). Cerys was inviting people to share with her their favourite stories about the area, she plans to write these up and turn them into an exhibition which will be seen on Ninian Road from Friday to Sunday (11am-5pm). 
 We shared a coffee and a brief walk around the park chatting about the interactions she'd had that day. Stopping at the white park bridge we attempted a game of pooh sticks.
Later on in the day I found myself outside Punk Bikes looking at photographer Mehdi Razi's work. "Cardiff in Detail" is a collection of photographs from around Cardiff. Mehdi had spent weeks walking the streets of Cardiff using his phone to photograph points of the city he found interesting. This has made for an interesting and thought provoking display showcasing another person's view of our favourite Welsh capital city.
But this was just the start, just three events in the jam packed calendar.