1a Artist in Residence Programme
The Museum of Divergent Reality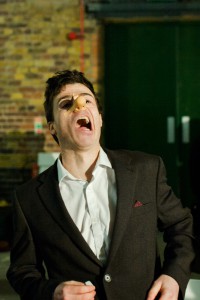 Peilot/Chapter associate artist Tim Bromage was at 1a for three weeks in June/July 2018. The residency formed part of Tim's Creative Wales Award activity.
Over the three weeks, by transforming the space into The Museum of Divergent Reality, Tim used the residency to explore the use of anecdote and story to interrogate local and autobiographical history. The space was open to visitors for the duration of the residency, and members of the public were invited to submit and contribute to a growing collection of stories, and to explore the role that oral history plays in the community.
These 'entries' were added to an already existing archive at The Museum of Divergent Realities,  which functions as both a philosophical ideal, and as an ever evolving performance score. A variety of existing museum entries was on display throughout the residency, and demonstrations and guided tours were available on request.
There were a number of programmed events, including a performance by the magician Joseff Badman 'By name and by nature'.
Joseff's is a performer and magician whose one man show combines technical excellence with autobiographical stories, exploring his Romany heritage and his unconventional family tree and the influence that our heritage has on the decisions and choices we all make in adulthood.
'My grandfather played cards for money, and never lost, and my aunt spent her time reading fortunes for a living. Growing up I found myself around past times that held a little risk, cards, dice, and other games of chance. As I have grown older; these things have held a continued fascination for me. I wonder now if it was inevitable.'
More information on his website :
https://joseffbadman.com/