Braeval Street Open Studios
Sunday 17 July 2022,
Midday - 4pm.
Kamila (also working under the name Pigeon) is a Polish illustrator and comics maker based in Cardiff. Her playful imagery is often inspired by dreams and folklore, and a lot of her work is focused on reviving and re-imagining elements of her Slavic heritage. Her debut comic "Rusalka" – a tale of a Slavic water nymph –  was awarded as Best Debut of 2021 by the Polish Comics Association. Currently the rest of the story is in progress, to be published in 2023 with Strangers Publishing. 
LINKS:
Portfolio → http://pigeonmakesart.co.uk/
Instagram → https://www.instagram.com/pigeonxperson/
Twitter → https://twitter.com/yourlilpigeon
Karina is an Artist and Printmaker based in the Valleys of South Wales. Her influences include the natural world, traditional European folk practices, classical art and literature and historical artefacts. Her deep love for history and narrative means references to architecture, historical texts, tapestries, stained glass windows and religious relics are prevalent in her work. Her practice is a mix of relief printmaking, traditional painting and illustration. With these mediums she can indulge in her love of colour and expressive mark making.
Currently Karina is working in lino print creating dark imagery to depict the Welsh folk calendar. 
Email: Karinaismsillustration@gmail.com 
Instagram: karinaismsillustration
Website: karinaismsillustration.squarespace.com 
Etsy shop: KarinaismsPrints
Simon, originally a ceramics artist who studied at Wolverhampton University from 89-91 has recently moved onto wood working. Working with found and recycled materials he creates turned objects, furniture and structures. For many years he has worked as a community development worker and has been part of, and instigated many community projects including the concrete sheep at the Ely Hub and St Fagans Museum, Mill Park,  as well as making pizza ovens and dabbling with barely palatable brewed products.
Join me for a turned cup of mead..
I don't have a website, sorry.
Simon Murray l Fahrenheit 451
simon_pm@hotmail.com 
07870 514994
Annie Fenton is a Cardiff-based site-specific installation artist. She works predominantly with textiles and creates her work in response to the space it inhabits. She has a weaving practice, and also creates detailed, meditative drawings inspired by the repetitive processes in traditional textile crafts. She has recently completed a research and developed residency at Shift in Cardiff where she explored creating audio installations using field recordings of birds in Cardiff's green spaces. She hopes to continue working with audio elements to create large-scale multistory installations in the future.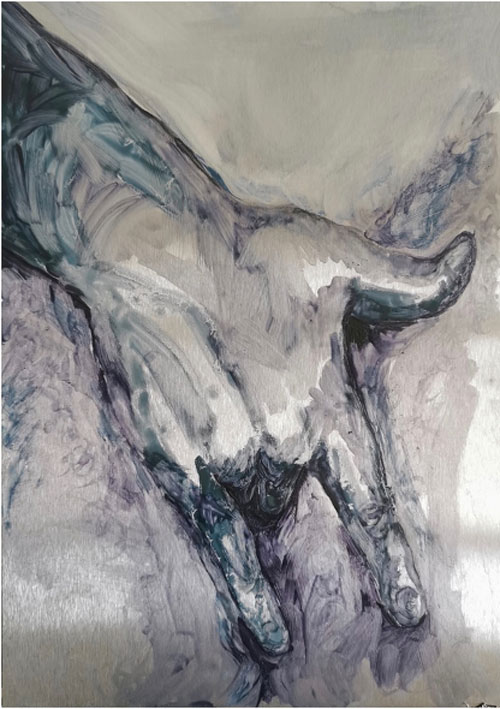 Luke Roberts (they/them) is a visual artist and curator originally from Anglesey, North Wales and currently based in Cardiff. Their practice spans several disciplines of contemporary art; utilising painting, drawing, text works and sculpture in their installations. The creation of Lukes' pieces is motivated by a push to understand the idea of self, their relationship with queerness and their placement as a "draftsman" in a contemporary context.
Luke's current work documents their interaction with the intricacies of their identity, in particular: gender and memory. They are aiming to create playful pushes against traditional representations of the masculine figure, portraying bodies tangibly through the prism of their sexuality. Luke aims to make works that celebrate queer joy, intimacy and domesticity outside of the established trope of gay erotic art.
lukeroberts42@gmail.com 
www.lukerobertsart.com 
www.instagram.com/lukerobertsart