Cardiff Made @ Milkwood
19 October, 2013

-

24 October, 2013
Map Ref#49 – Cardiff Made @ Milkwood, 41 Lochaber Street, CF24 3LS.
Cardiff M.A.D.E. @ Milkwood Launch Party
Anthony Rhys, Jacob Whittaker, Elizabeth Tomos
Opening Night: Sat 19th Oct 6pm – 10pm. Mon – Sat 8am – 6pm, Sun 10am – 4pm
Presented by Cardiff M.A.D.E, a new community organisation set up to promote the work of Cardiff makers, artists and designers, the 'affordable art wall' is an ongoing exhibition of continually changing art, set at affordable prices, within the new cafe and gallery space at Milkwood, 41 Lochaber St, Roath. The affordable art wall will be launched along with Cardiff M.A.D.E itself on Saturday October 19th from 6pm onwards.
Ring : 07947 451 462 for any enquiries.
What Have You Done?
Anthony Rhys
Milkwood Basement, Portraits of a Victorian family hang in the basement. Although long dead they will not let old ghosts lie, especially as they don't trust you. 'What Have You Done?' is an interactive portrait installation by Eisteddfod Prize winning artist Anthony Rhys.
www.anthonyrhys.com
Nobody Plays Records Anymore
Jacob Whittaker
Broken records with QR codes. The dominant recorded music format of the 20th Century fragmented and transformed for the 21st. Fragments of old records are around the exhibition sites and town with QR codes leading to various videos including the first published birdsong recording on a 1920s gramophone, multiple turntable webcasts, HD studio edits and installation documentation
www.jacobwhittaker.co.uk
Palimpsest
Elizabeth Tomos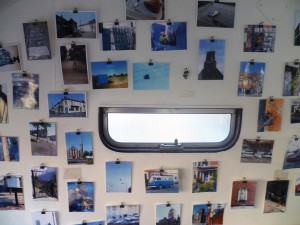 'Palimpsest' acts as an opportunity to create a community 'portrait' of Roath. Members of the public are invited to 'barter' for images created during a residency in July. For each image taken, something (about Roath) must be left behind – a drawing, a photograph, a poem, a letter, an object etc.