Mackintosh Square
19 October, 2013

-

20 October, 2013
Map Ref#46 – Mackintosh Community Centre, Keppoch Street, CF24 3JW.
Art Shell – 'Canary'
Macintosh Sports Club (old car park) 38 Keppoch St, CF24 3JW
Kypros Kyprianou
Thu 17th – Thu 24th Oct, check with venue for opening times
Kypros Kyprianou responds to the challenge of using a skip as a vessel for art. Kyprianou converts his skip into a tank, entitled 'Canary'. It's 'turret' points eastwards towards the 'levant', French for rising (sun).
www.artshell.org
Craft Market
Mackintosh Community Centre, Keppoch Street.
Sat 19th Oct, 9.30am – 3pm
A year round craft market held inside the Mackintosh Community Centre, where local craftspeople who offer a wide range of handmade item at affordable prices. 'Autumn Leaves' Craft Challenge will be judged by the public (prize is £50 to the viewer's choice), and there will be a Craft Taster Sessions throughout the day (learn to crochet, knit, make jewellery, papercraft & more) – all free – a chance to try out a craft skill.
Linda Ditchburn – 07806 772792
Craft@RoathMarket.co.uk
www.RoathMarket.co.uk
@RoathCrafts
Farmers Market
Mackintosh Centre, Keppoch Street.
Sat 19th Oct, 9.30am – 3pm
The very best in real fresh local food. Fantastic produce to take home and hot food to go. Organic vegetables, eggs, fresh meats, breads, cakes, savouries, ready meals, stunning real ales, duck burgers, Indian foods, samosas, vegetarian and much more!
www.riversidemarket.org.uk
Photomarathon Exhibition 2013
Mackintosh Sports & Social Club, 38 Keppoch Street
Sat 19th Oct – Sun 20th Oct, All day (exterior)
An exhibition of all the images taken during Photomarathon 2013 held in Cardiff earlier this summer. Four hundred photographers took up the challenge to take 12 pictures on 12 different topics over 12 hours. This exhibition is the product of the creative efforts.
Shaun James
Situated in the Macintosh Community Gardens Shed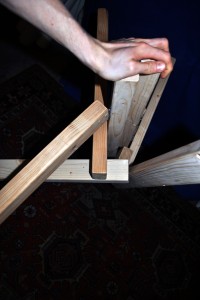 Sat 19th -Sun 20th Oct
The work I make has no singular direction. Instead I attempt to engage inductively with variables – Exploiting potential energies: like the tension of a rubber band or the inevitable drop of an arm under weight; playing, accumulating and allowing a process to activate, dictate or guide an outcome.